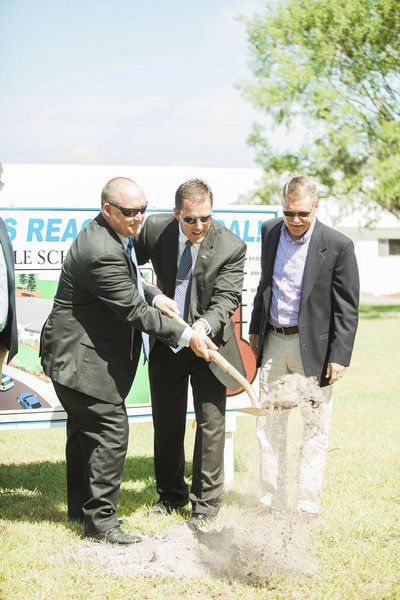 DASHER – Georgia Christian School recently held a ground-breaking ceremony for the Joe Virgil Dasher Middle School Building.
On hand to celebrate the occasion were GCS board members and administration, members of the Dasher City Council, current students and alumni stretching back to the 1950s, according to a school press release.
The new building will be twice the size of the current middle school building and will be placed where the girls dorm once stood.
GCS Board Chairman Jon Sykes gave credit to past board members for their campaign to drive the school to debt-free status more than 20 years ago and current board members for maintaining the commitment.
He also mentioned the current master plan put in place in 2010 that created a road map of renovation of current facilities and the addition of new buildings in the future. Sykes thanked the GCS family for their continued support of the mission of Christian education.
Brad Lawson, GCS president, praised the board for its leadership in not only planning but stepping up to the plate as lead donors for the project. He mentioned the irony of the placement of the building at the site of the girls dorm. Students had made the blocks on campus to build the dorms back in the 1940s.
"I am happy to say that even though no blocks are being made on campus anymore, this building is happening because of alumni and even current students giving of their means," Lawson said.
A donor heard about the middle school project and challenged Lawson with a $500,000 dollar-for-dollar matching donation.
"In just over six months, we went from exactly $0 to over $1 million," Lawson said. "The Lord has blessed our hard work. ... The Joe Virgil Dasher Middle School Building is paid for on day one of construction."
The 9,600-square-foot building was designed by architect Bruce Smith of Studio 8 and is being built by Cauthan Construction Company. The goal is to have the building completed when students return from Christmas break, according to the GCS press release.

http://www.valdostadailytimes.com/news/local_news/georgia-christian-breaks-ground-for-new-middle-school/article_dc956818-ed41-5253-8ec0-e14908bee24d.html