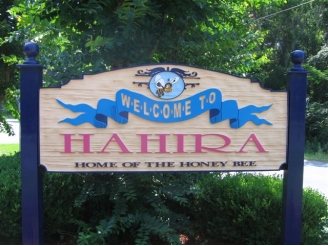 About Hahira GA:
In 2001 Hahira became one of 50 small towns in Georgia to be awarded the Better Hometown Designation by the Georgia Department of Community Affairs.
Hahira is the northern gateway into Lowndes County, one of the fastest growing and most progressive counties in Georgia. Located only eleven miles north of Valdosta, the county seat, and a regional trade center. Valdosta is experiencing unprecedented industrial, residential, and commercial growth and has a positive impact on Hahira. As Valdosta expands, residential growth will move towards Hahira. As of the 2000 census, the city had a total population of 1,626. Currently due to residential and downtown business growth that figure is estimated to be near 2500.
Hahira is an excellent place to live. If its greatest asset is its warm friendly hardworking productive citizens, the greatest attraction is quality of life. In Hahira, there is good affordable housing, an excellent school system, a low crime rate, and "easy-going" way of life. As stated before, everyone in Hahira is a neighbor. People still stop one another on the streets to talk or gather at the local cafe to discuss everything from world politics to high school football. Hahira contains a charm and character that sets it apart from other towns and gives it its own identity. Part of this charm comes from its historic resources. Downtown Hahira still retains most of its original architecture. Historic resources include the Stanfil Building, Norfolk Southern Railroad Caboose, City Cafe, old Smith Hospital building, Court House, Gold Leaf Hotel, turn of the century Churches and of course City Hall.
Source is http://www.hahira.ga.us/cityinfo.html
Hahira GA Homes for Sale by Price:
Under $100,000
$100,000 - $150,000
$150,000 - $200,000
$200,000 - $300,000
$300,000 - $400,000
Over $400,000
Hahira GA Homes for Sale by Type:
Startup Homes for Sale in Hahira GA
Median Homes for Sale in Hahira GA
Upscale Homes for Sale in Hahira GA
Single Family Homes for Sale in Hahira GA
Residential Lots and Land for Sale in Hahira GA
New Construction for Sale in Hahira GA
REO/Foreclosures for Sale in Hahira GA