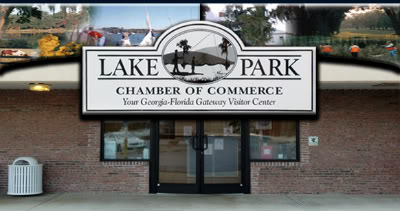 About Lake Park GA:
Lake Park is located 14 miles south of Valdosta, the county seat of Lowndes County. This is one of the most beautiful areas of Georgia, with its stately pines, cypress trees with Spanish moss, and crystal clear lakes. Lake Park is known as the "Georgia-Florida Gateway" because it lies just north of the Florida state line on Interstate 75. Many lakes and trails, retail stores and outlets, ample industrial properties, churches and schools, make Lake Park a great place to live or visit.
It is a quiet yet progressive community. Here you can admire a beautiful sunset, stroll under magnificent live oaks, inhale the fragrance of magnolia blossoms, and be charmed by the warmth of the people you'll meet.
Lake Park is a jewel of a community. It, simply put, has so many charming attributes that can be enjoyed simultaneously. Thanks to a mild climate and beautiful landscape, Lake Park is an ideal place for year-round outdoor activities, such as, golf, boating, sailing, swimming, hunting, skiing and other athletic activities. With more than 20 lakes, a vibrant shopping district, and dozens of restaurants there is activity aplenty.
As a century of tradition dictates, visitors to Lake Park are warmly welcomed. The residents are confident, they know that the newcomers will enjoy their stay whether for a week or a lifetime.
Exerts from sources http://www.lakeparkga.com and http://cityoflakeparkga.com
Lake Park GA Homes for Sale by Price:
Under $100,000
$100,000 - $200,000
$200,000 - $300,000
$300,000 - $400,000
Over $400,000
Lake Park GA Homes for Sale by Type:
Startup Homes for Sale in Lake Park GA
Median Homes for Sale in Lake Park GA
Upscale Homes for Sale in Lake Park GA
Luxury Homes for Sale in Lake Park GA
Single Family Homes for Sale in Lake Park GA
Condos for Sale in Lake Park GA
Residential Lots and Land for Sale in Lake Park GA
New Construction for Sale in Lake Park GA